2
Weddings in the time of the coronavirus
Published 12:38 PM, February 29, 2020
Updated 8:27 PM, February 29, 2020
Mass weddings, the ones sponsored by mayors or heads of government agencies, are aplenty during the Love Month. So much so that, perhaps, they've lost their appeal as full-blown human interest stories. Just like what happened this year, when many newsrooms relegated press releases about a roomful of couples tying the knot to social media posts instead of story pages.
Until, of course, that roomful of partners exchanging I do's and kisses are wearing face masks. (Watch this video from the Bacolod City government, aired by the BBC.) Then mass weddings, the ones officiated in the time of the coronavirus outbreak, become a story. In fact, they tell many stories.
Most of these couples have been living together for years. I have don't figures from the Philippine Statistics Authority (PSA) for this, but I speak from what I've seen in the many years I've been watching local government activities and talking to mayors. You will rarely see young couples who have yet to move in together availing themselves of the free mass weddings organized by the government offices. It is mostly longtime live-in partners who enlist for these ceremonies.
On Valentine's Day, for example, Navotas Mayor Toby Tiangco pointed that out (in Filipino): "Most of you have been together for more than five years now. Whatever is your secret to making your relationship last, keep it. Let this ceremony strengthen your union and make your marriage happier."
I'd like to think of these couples as proof that, contrary to the logic of those opposed to the legalization of divorce, it's not like couples would rush to dissolve legal partnerships once there's a law for it. When couples decide they want to stay together, they wouldn't pass up the opportunity to be legally bound to stay together.
In fact, 2017 – the last year the PSA uploaded data on marriages – saw the number of marriages increase for the first time (from 419,628 marriages in 2016 to 434,932 in 2017) after a decade of decreasing numbers of marriages. (You can check out here statistics on marriage in the Philippines over the years.)
So why do these couples wait for so long to get married, even in civil rites?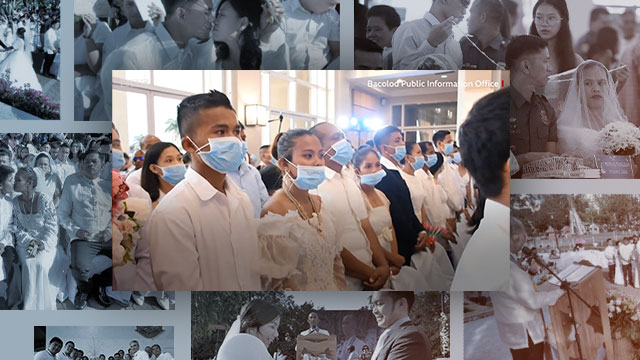 They are too poor to afford exclusive civil ceremonies. In the same vein that impoverished families can't afford birth control, maternity checkups, proper nutrition for their toddlers, baon (pocket money or home-prepared food) for their children who already go to free-tuition schools, these couples can't afford even a civil wedding.
And you know how much a civil wedding costs? MoneyMax says, P5,000 to P10,000. Of that amount, only around P1,000 goes to all the documentary requirements to get wed – the rest is the fee for the solemnizing officer.
So if couples wait for city hall to organize mass weddings, where the officiation is free, that means they can't afford even the P1,000 to get their birth certificates, certificates of no marriage, community tax certificate, affidavit of parents' consent, certificate of attendance in a pre-marriage seminar, and marriage license.
They are too poor, in fact, to even choose to wed during the supposedly "marrying-est" months. In the 3 years until 2017, most couples married in the summer, either April or May. The last time I could trace PSA data showing Valentine month as the month most couples married was almost a decade ago, in 2011.
A considerable number of couples, in fact, pick practical considerations over religious and sentimental ones when getting married. Some 40% of marriages in 2017 were contracted through civil rites – outnumbered by religious ceremonies only if you'd combined the figures for Catholic (38.2%) and other churches (19.6%).
The mayors – don't call them epal now – are delivering a service. Considering the fee for solemnizing officers mentioned earlier, I can imagine that having the municipal or city mayor take on that role for free is what seals the decision of poor couples to legalize their union.
While officiating marriages inevitably earns the mayors good points in the eyes of their constituents, let's not be quick to call them "epal" (attention-seeker). They are doing a duty specifically assigned to them in the Local Government Code of 1991. (They are apparently a belated addition to the list of solemnizing officers – the Family Code of 1987 didn't list them as such.)
And while the media take note of mass weddings in February each year, some local government units actually do these at other times of the year – during the city's foundation day, or the mayor's birthday, or in time for Christmas. Most LGUs host simple receptions for the newly-weds. Wealthier cities, like Makati, even give cash gifts that are certainly a big help to the couples. This is delivering a service not just for the journalists' cameras.
LOCAL GOVERNMENT NEWS
They don't just officiate weddings. These mayors are doing good in other ways:
Manila's recently rehabilitated Jones Bridge – a historical and architectural gem neglected for decades – has become a choice location for

pre-nuptial pictorials

.

The Quezon City government has put up a

Bring Your Own Bottle

store, where city hall employees and the public can buy "basic condiments such as vinegar, soy sauce, and cooking oil."

Makati

substantially increases its budget

for special education and Alternative Learning System programs.
Makati provides "certified true copy of either birth, marriage or death certificate, or certificate of no record on file

for free

" during Civil Registration Month.
But then, there are local officials who just can't ditch traditional politics:
Love conquers all – and so does precaution. Finally, the mass weddings this February are especially brave for the couples and those involved in the events given the coronavirus crisis. While big gatherings are discouraged, even canceled, both here and abroad, to prevent the spread of the virus, officially saying "I do" is the one occasion everybody understands will have to push through no matter what.
The brides and grooms wore face masks, alright. But I'd like to believe we as a people have also been responsible enough to quickly adopt the precautions advised by specialists.
As I've been telling friends, who question the accuracy of the Department of Health's very low count of coronavirus-positive patients in the Philippines, let's give DOH some credit – as the World Health Organization just did on Wednesday, February 26. But give our proactive local authorities a big part of the credit too. My first newsletter for the Love Month did just that: Coronavirus threat: What local governments are doing.
– Rappler.com
Until next week! Email me your thoughts at miriamgracego@rappler.com. If you want to help Rappler pursue in-depth reports on specific sectors and issues, you can donate to our investigative fund here. You can check out the conversations I engage in on Twitter @miriamgracego and follow the stories I share on Facebook.