2
Who's afraid of martial law?
Published 7:15 AM, May 01, 2020
Updated 12:44 PM, May 04, 2020
Perhaps President Rodrigo Duterte has not noticed it, but his martial law threats have ceased to be blockbusters. They're no longer the reason we toss in bed or hold animated discussions with our peers and families. They have become part of a tired refrain from a military-infatuated leader who, in the face of a faceless, sturdy, and nimble enemy, still thinks he can defeat it through might.
His most recent threat came last Friday, April 24, in a taped public address that was aired – thank God! – in the morning. "I am now warning everybody, and putting notice sa Armed Forces pati police: I might declare martial law, and there will be no turning back," the President said.

Then as usual he rambled on, this time sniping at the communist New People's Army (NPA) and accusing them of sabotaging government's relief efforts during the pandemic. (Recommended read: Duterte's martial law threat – and what he did not tell us)
The topic seemed so out of place until you realize he's actually thinking of a way or setting the premise for what he's always wanted but never got: for the armed forces to take the lead in implementing the lockdown via martial law – no different from how it secured Mindanao for two-and-a-half years in the aftermath of the Marawi siege.

But unlike in Mindanao, there is no "rebellion" or "invasion" in Metro Manila and the whole of Luzon that could justify martial law. Which is why he is magnifying rebel attacks during the pandemic, as if it is these attacks – not inept leaders – that are killing Filipinos.
Human rights lawyer Chel Diokno, in a YouTube post, responded to a netizen question on whether she could still buy goods for her baby in the event of martial law. Diokno hinted Duterte would have to move heaven and earth to be able to justify such a declaration.
Even the military refuses to take the lead in a stricter lockdown. Because they should know better (I hope). As Quezon City Representative Kit Belmonte said in his eulogy for a community organizer he had worked with: "This is now a different enemy. It is silent and undetected. It has no color. And it is loose in our densely populated slums."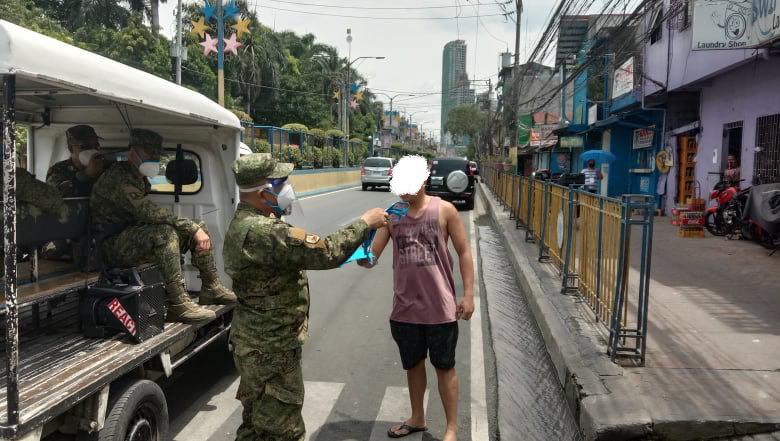 Expect more
Presidents have always used the communists as the
carrot for the military
to keep its loyalty, so we should expect Duterte to keep on seeing red throughout this pandemic and we should stay vigilant in making sure he's not going to arm-twist us into accepting that the coronavirus is armed.
Outside the Philippines,
autocrats are exploiting
the lockdown and the health crisis to justify further curbing human rights, flouting laws, and entrenching themselves in power – from Cambodia to Azerbaijan. We touched on this in Newsbreak Chats that's airing
Thursday afternoon, April 30
.
Watch it here
.
In the Philippines, we take comfort in the fact that the Armed Forces chief of staff has other priorities, like
begging the Chinese ambassador
for the shipment of untested coronavirus medicines. I hazard a guess that if General
Felimon Santos Jr
will lead the charge in a martial law regime today, even the Army's master sergeants will just scratch their crew-cut heads.
Not to say that they would dodge a "legitimate" martial law order. Who knows, they're probably even preparing for a benevolent one. Look at how soldiers are distinguishing themselves from the trigger-happy police – offering masks and smiles to errant pedestrians.

Labor is bleeding
The real enemy outside our health concerns is job and business loss.
The labor department said over 2 million Filipinos have been displaced since the lockdown, though various experts agree that's a conservative number.This is on top of close to 90,000 Filipinos abroad who either lost jobs completely or on a "no work, no pay" scheme.

On April 15, the government stopped accepting applications for its cash aid program for private sector workers affected by the crisis, saying it needs an additional P9.4 billion to help everyone affected.
In a webinar hosted by MovePH, the civic engagement arm of Rappler, on Wednesday, April 29 (which will air on Labor Day, May 1), the International Labor Organization's (ILO) sees a tough road ahead. ILO senior employment specialist Sher Verick said the recovery will be "slow and painful," and it will take "many years for the world to finally get back on its feet."

In its third report on the impact of the coronavirus on employment, ILO said on Wednesday, April 28, that an estimated 1.6 billion workers – or nearly half the global workforce – are in danger of losing their jobs.

As a particular case, half of French workers in the private sector are now unemployed.

How about workers in government?

According to Annie Geron of the Public Services Labor Independent Confederation in the same webinar, there are about 350,000 government workers on job contracts and without tenure who stand to lose their jobs if the crisis continues to drain local government funds.

And there are at least 42,000 barangay health workers who are now doing critical work in the communities but do not receive regular pay, she said. Most of them are considered volunteers.
How about business?
The US saw an end to its decade of economic growth.
Spain's jobless rate spiked to 14.4%.
The Bank of Japan cuts is growth forecast for Japan.

South Africa is seeking $4.2 billion in IMF, World Bank assistance.

In the Philippines, here's how the pandemic has hit big business:
Cebu Pacific lost P1.1B in the first quarter
Universal Robina's profits are down 32% in Q1
Aboitiz cut its capex this year by P26 billion, and its income plunges 42% this quarter
What can we do to help?
Project Lifeline. Rappler is partnering with Project Lifeline, an online helpline that aims to provide pro bono solutions for MSMEs whether in the form of legal advice or sharing of best practices in addressing the challenges of severe business disruptions due to the coronavirus. Launched by Mosveldtt Law Offices, the project is a collaboration between the law office, UnionBank of the Philippines, BounceBack PH, and Rappler. Check details here.

5 government programs business can turn to. Government has cost-saving adjustments, relief programs, and financial solutions to help ease the impact of the enhanced community quarantine (ECQ). Check them out in this link.

Helping baby Kobe. He survived the coronavirus, and was checked out of the National Children's Hospital in Quezon City on April 28. Here's how you can help his family.
A meaningful Labor Day on Friday to you! Please feel free to email me at glenda.gloria@rappler.com – Rappler.com