2
Are you a terrorist?
Published 7:12 PM, July 09, 2020
Updated 7:12 PM, July 09, 2020
A daring ambush was staged late Tuesday morning, July 7, on Quirino Avenue in Manila. The target? Manila's chief inquest prosecutor, 62-year-old Jovencio Senados, whose attackers appeared dead set on killing him. Motives for the brazen attack have yet to be established by investigators.
Just the day before, petitioners went to the Supreme Court to question the constitutionality of the anti-terrorism law which President Duterte signed on July 3, oblivious to criticism and concerns about its adverse impact on human rights enshrined in the Charter.
Would the gruesome murder of Senados constitute an act of terrorism under the new law, some human rights lawyers ask. Before this new law, we had the Human Security Act of 2007 which defined terrorism as crimes that create a "condition of widespread and extraordinary fear and panic among the populace" to coerce government "to give in to an unlawful demand."
But Duterte's new law broadens this definition and casts a wider net. It now says the following constitute terrorist acts, as explained previously by our justice reporter Lian Buan. (READ: EXPLAINER: Comparing dangers in old law and anti-terror bill)
Intimidation of the general public or a segment of it

Creation of an atmosphere of fear or the spread of a message of fear

Provocation or influence of government or any of its international organizations by intimidation

Destabilization or destruction of fundamental political, economic or social structures of the country

Creation of a public emergency

Serious undermining of public safety

Compare Duterte's law to these definitions of terrorism by the United Nations Office of the High Commissioner for Human Rights and even the US Federal Bureau of Investigation. To simplify matters, both of them essentially say that terrorism entails force, violence, or death to intimidate or coerce a government or a population to push for a particular agenda.
This narrow definition is insufficient in the world of Rodrigo Duterte and other legislators who gave their nod to this piece of legislation. Given the 6 enumerated acts, the ambush of Senados – because it certainly created a public emergency, spread a message of fear, and undermines public safety, at the very least – makes terrorists of his attackers.
Ordinary dissenters can be terrorists
But wait, it's not just gruesome murders that make killers terrorists under the new law. Even ordinary dissenters or protesters can be tagged as terrorists if the 9-member anti-terror council (ATC) made up – not of judges, but of members of the Duterte Cabinet – say so. All they need to do is find probable cause that there is intent to cause death or harm to a person or create risk to public safety to declare a dissenter a terrorist.
If you tweeted or posted on Facebook about a mass protest near the Palace, for example, or any government office for that matter, and encouraged people to attend it to voice immense dissatisfaction with the administration's handling of the coronavirus pandemic, you can be easily labeled a terrorist, on the mere say-so of this all-mighty ATC. Just because you are judged to have an intent to endanger lives and public safety. (Learn how to protect yourself by reading this piece by lawyer Emil Marañon III: How social media users can protect themselves from the anti-terror law.)
But really, how does one judge intent? Will anointed Cabinet members have the gift to read minds and decipher intentions of activists like religious saints and gods? And what happens to judgments of courts that justify incarceration and loss of basic freedoms only on the basis of hard evidence? We are retrogressing and falling deeper into the abyss of authoritarianism.
Forget about the assurances of Presidential Spokesman Harry Roque, who has turned out to be a pseudo-human rights lawyer. We got reminded of this piece he wrote for us way back 2012: Cybercrime law: See you in court, PNoy, which only shows that for him, it might have been merely faddish then to oppose the cybercrime law, as much as it is perhaps in vogue now to defend the anti-terror law. (READ: Roque defends Anti-Terror Law, says safeguards 'enough' to protect rights.
ABS-CBN
The pandemic will make the situation even more coercive than what it will foreseeably be once the law takes effect. If Kapamilya stars, employees, and fans went to the House of Representatives to protest its members' subterfuge and ruses (to borrow the word in Maria Ressa's cyber libel case decision) to delay or even deny the ABS-CBN franchise, they, too, can be tagged as terrorists and even violators of quarantine restrictions. Forget about freedom of speech or even freedom of assembly.
Mara Cepeda wrote about probable outcomes in the ABS-CBN saga at the House here. Keep up to speed with this story: Scenarios: What happens to ABS-CBN franchise after House panel vote?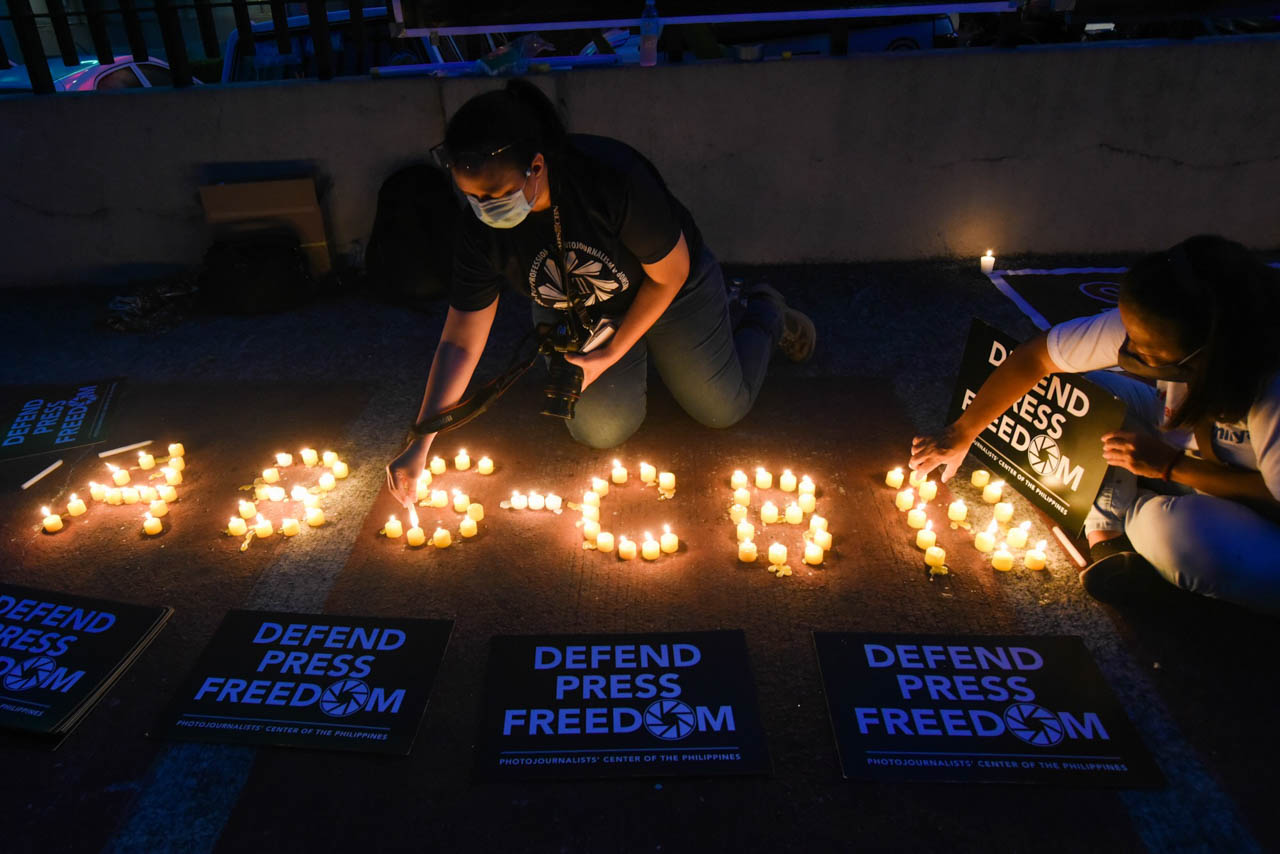 But can you imagine how one single explosion set off by rightists during any protest, whether or not related to ABS-CBN, can close the narrowing divide between democracy and authoritarianism? Remember the August 1971 Plaza Miranda bombing and the faked ambush of then-defense minister Juan Ponce Enrile that was used to justify the declaration of Ferdinand Marcos' Martial Law?
Beyond the Philippines, we are watching closely Malaysiakini editor-in-chief Steven Gan, who faces contempt of court charges over comments supposedly critical of the Malaysian judiciary which were posted by readers on their site. Clearly an act of intimidation to silence independent media.
Meanwhile, don't miss these Newsbreak podcasts, interviews, and stories:
NEWSBREAK STORIES YOU SHOULDN'T MISS:
Let me know what you think via chay.hofilena@rappler.com. It's always good to hear from you especially during these tough times. If you have tips or suggestions for stories we should pursue drop me a line.
Listen to our Newsbreak: Beyond the Stories podcast on Spotify or Apple anchored by researcher-writer Jodesz Gavilan. There's a whole menu of podcasts and video you can watchhere.

Newsbreak is where you'll find Rappler's investigative, in-depth, and data- and research-based reports. Be updated on the latest stories by liking Newsbreak on Facebook and following @newsbreakph on Twitter.